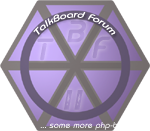 Talkboard Forum 2
▻ Welcome
TBF2 is a PHP- and MySQL-based software which supplies a discussion board for everyone's website. It exists as of 2001 and has been developing since then. The forum comes at no extra charge and is open source. Two languages are supported, also allows free layout arrangement as far as possible and provides anything you expect from modern forum software; themed by its motto 'merge own ideas with best of other forums'.
The recent stable branch 2.2.x is shipped as of November 2015 and replace the older releases. This fixes bugs of course and brings some new stuff which were planned quite some time ago. On this webpage you can inform yourself about the project, its history, its requirements to the webserver and a little comparing list of its features. By using so called templates the layout of your forum can be modified. To do so, a new one can be created, but also one of the ready-made be used.
What would a software project be without support? Of course, you get that. Details are on the corresponding section. Don't let me keep you from looking around :)
▻ This is new
#43 — Talkboard Forum 2.2.1 (stable) released
⏲ September 2018
Three quiet years have passed until a small update of the forum became available. It´s codename is "Charon" named after the largest moon of Pluto and "New Horizons" is still flying through the outer solar system. The update has been driven by the changed privacy law regulations ("General Data Protection Regulation") in the European Union since May 2018. The TBF could have been run in a "privacy friendly" mode for a long time. Now it can be reduced furthermore. * The license has been changed to "GNU GPL Version 3 or later". This makes no difference to you as user. It is well-proven and I see no reason to stick to it by all means. * You can include the since 2.2.0 used font "Open Sans" from an external source into your stylesheet/css. Details can be found on the "Appearance" subpage in the top navigation panel. * Setting a valid e-mail address is now optional if the configuration allows this. Combined with other settings there are only a few collected personal data left. * Users can now use one-time passwords (TOTP) during their login. Suitable soft- or hardware is needed in the user´s possession to create the six digits long numbers. The used procedure is compatible to the two factor authentication (2FA) of large sites on the internet. * "Strong sessions" are now enabled by default on new installations. Existing can find it in "Configuration\Security Settings". This binds the IP address to the session on login. Every user can disable this independently, if he has changing IP addresses. No critical issues have been fixed as there are no known. However an update is recommended. You can find the package in the download area as usual. Advanced users can grab an unified diff file to preserve own changes to the source code. The files are signed cryptographically. Details can be found on the downloads page.
▻ Careful glance
The Talkboard Forum 2.2 has the following requirements:
A working operating system with TCP/IP-Protocol *
A configured webserver with optional SSL/TLS encryption *
At least PHP 5.0.0 or higher
A MySQL-Database at version 4.1 or higher
* = Only of interest, if you have your own server, instead of a contract with a hosting company.
You can use the following options, if you want (needs more PHP modules):
Compression of the database backups or export files using zlib/gzip or bzip2
Realtime compression of requested pages with zlib/gzip
Rendering some elements dynamically in pictures with gd
As of 2.1.2 sending digitally signed e-mails by using gnupg
It all began in January 2001. I was looking for a script language to improve my homepage with dynamic action. First I played a little bit with Perl, but by coincidence I finally found the open-source language PHP. All my programs were written in this. In March 2001 version 1.0 was finished and provided for download. But then it became quiet around this board, because I had focussed on other scripts. This was the time when the 'Archilles Scriptworld' was born and offered a broad variety of applications to the public. In early-winter 2001 TBF reached version 1.2 with bugfixing. At the beginning of 2002, I decided to rewrite it from scratch. This was just intended to be version 2, but I stayed in the 1.x branch to gain more experience. That decision turned out good later on. During the year 2002 it arrived at its final version 1.7.5, which was much more complex than the initial release. Many ideas were included and hours passed by. But unfortunately, I was not confident about this and started developing on the new version 2 in November 2002. In February 2005 it (finally) was completed and replaced the successful 1.x branch.
What is important to the Talkboard Forum:
Tradition of privacy: Already in the early days of TBF the imperative of "Datensparsamkeit" fixed in the old "Bundesdatenschutzgesetz" (Federal Data Protection Law) was incorporated. In Germany we have had a strong understanding of privacy for a long time and should process as less personal data as possible. You can run the forum in a mode with very little data of your users. Since Version 2.2.1 users have been able to set no e-mail address at all. I have never included contents of third party servers. Everything is local.
Customization: You can include changes easily and an update of the forum software leaves them alone. Whether you adapt your terms of use, the imprint or the appearance everything is located in simple text files. They can be saved or restored at any time.
Documentation: I always liked a comprehensive documentation. There are lots of help comments for users and annotation in the source code for developers. This also includes a detailed listing of changes between the forum versions. And the open handling of errors and no unannounced changes of default settings.
The weaknesses of the Talkboard Forums:
Hobby: The structure has grown over the years without ever having a clear model behind it. Due to compatibility to older PHP versions there are no use of "recent" coding features. I have no professional apprenticeship in programming. It is more that the TBF has been a playground for self education.
Old core: The TBF formed when there were virtually only desktop systems with big screens available. There are no optimizations for mobile devices with smaller screens (the author lacks hardware, too). I am not sure if you can downsize the idea of a discussion forum without losing comfort.
Complexity: As much as possibilities the software grants, as much sources for errors are present. I expect some readiness from you to get used to a learning curve. It is very likely that you cannot do your job "during an afternoon". The reward will be adaptability.
▻ TBF on the go
For any version you can find different packages to download. I recommend the most recent one. New installations and upgrades are made with the 'Full Package'. They come in two flavours of compression - old ZIP and fresh LZMA ('7z'). Some versions have errors fixed after some time and are provided as "Update [Number]". These are simply copied over your existing installation. Advanced users can apply changes from one version to the successive by using a special tool¹ either on the server or their local machine. This can be done by a "Patch File".
All files have a so called hash. This is a long string of numbers and characters located at the corresponding version block. You can verify whether your download is correct. If just a little is not equal, your hash will be different from the one in the listing. I use the standard algorithm 'sha256' to calculate them. To help you verify you can look for a hint in your trustful search engine ('verify sha256 hash').
All files are digitally signed. If you grab my public PGP key you can verify the files for authenticity and integrity. This means they were not changed since the signature has been created. And the used key for that is in my possession. You can check the fingerprint to make yourself certain. To help you verify you can look for a hint in your trustful search engine ('verify gpg signature'). You can find the signatures in a detacted '.sig' file. Moreover it exists a file with all hashes which is also signed. Even the template files are included.
As of 2018 there will be a new keypair for the next years in order to replace the old one. A transition document has all details and was signed with both keys.

pub  rsa3328/0xA2360C8CD49BBD5E 2018-06-09 [C] [expires: 2028-06-06]
      Key fingerprint = 38EF 94F0 C94E 8063 FC2D  1C21 A236 0C8C D49B BD5E
uid                             Stefan Kühn <webmaster AT hasenharem DOT de>
uid                             Stefan Kühn <stefan AT hasenharem DOT de>
uid                             Talkboard Forum 2 (Encryption and File/Mail Signing)
                                            <support AT tbforum DOT hasenharem DOT de>
sub  rsa2048/0x1ADF2E5C6C4E2F95 2018-06-09 [S] [expires: 2023-06-08]
      Subkey fingerprint = 9122 2CDF CDB5 9ACD 3D8B  0867 1ADF 2E5C 6C4E 2F95
sub  rsa2048/0xD4CCBA0B9F9F6E3B 2018-06-09 [E] [expires: 2023-06-08]
      Subkey fingerprint = 52E4 CBDC C9C7 0ED3 FEF3  6B81 D4CC BA0B 9F9F 6E3B

¹ patch. A lot of linux distributions have it preinstalled. Windows ports are available, too.
▻ Templates
Please try the german version. It should be pretty strightforward even if do not understand this language. Basically you have to download the zip file to your corresponding forum version and have a look at the containing "readme.txt". New images should be copied to your "template/tbfV2" folder and the stylesheet/css has to be imported through the administatration panel "Configuration\Templates". I also have an image showing this procedure.
Since Version 2.2.1 you can include the font "Open Sans" from an external resource. Grab the zip file from the Open Sans Homepage and extract the containing "OpenSans-Regular.ttf" to your "usr"-Folder as "opensans-regular.ttf". In a second step you have to enable the font in your template stylesheet/css located on your administration panel. Take a look at the upper paragraph for details.
▻ Oracle
IMPORTANT: Please take note of the support scope of your TBF version.
2.2.x: Full support with new features, security patches and common error fixing
2.1.x: Limited support with security patches and common error fixing
2.0.x: Limited support with security patches
1.x.x: No support
If you speak german you can have a look at the archive of the old support forum. Or you use automatic translation. The most interesting one should be the "Häufig gestellte Fragen und Antworten (FAQ)" section. There is no direct search option but you can restrict your focus in common search engines by appending "site:tbforum.hasenharem.de" or "host:tbforum.hasenharem.de".
You can also get in touch by e-mail or have a look at the following tracker, if there is already an entry addressing your issue or an official bugreport is existing. My e-mail address is support at tbforum dot hasenharem dot de.
My support to this software comes without any charge and is voluntary! You have no claim of prompt reply. But you can be sure I read all requests and try to answer in my free time. If you like to donate something just make me an offer :)
▻ Legal
The "Talkboard Forum 2" (hereinafter TBF2) is provided as a free of charge and open-source software for private or commercial usage. The terms of use can be seen in the seperately delivered license ("GNU General Public License", GPL). It grants the four freedoms of the Free Software Foundation. This website does not generate any income or uses advertisement. Please forgive my lack of "legal speak" as I am no native english speaker.
Responsible for the content of this website is:

Stefan Kühn
Wideystrasse 33
D-58452 Witten, NRW
E-Mail: webmaster AT hasenharem DOT de
This is no support address for the software! Take a look in "Help" instead.
License and Liability
All textual contents and images are subject to the following license, if not declared otherwise: Creative Commons Attribution-NonCommercial-NoDerivatives 4.0 (CC BY-NC-ND). You are free to use it for non-commercial purposes, copy and distribute the contents. As long as you credit the source and leave the contents untouched.
I assume no liability for any damages you may be exposed to by using the information on this website except I have done a big mistake. Any consequences for your life, if you stay here too long and your dog will die of starvation or your friend will leave you, is not my business ;)
On this website you can find links to other external webpages. Although I check the contents of the destination before linking them, please note that I am not responsible for the contents. I do not control them afterwards for unwanted changes or if the link is still valid. Please notify me by e-mail, if something has catched your eye.
Privacy
The TBF2 website is delivered by Net-Build GmbH as service provider. They collect personal data of my customers during the normal server/computer operations. I am unfamiliar with what (personal) data are gathered by the service provider. But they are subject to strong german privacy laws ("Bundesdatenschutzgesetz") and since May 2018 the "General Data Protection Regulations" in the European Union and you should contact them if in doubt. I have lost access to the provided webserver protocols since the GDPR took place. These could be used to make statistical analysis of my visitors but nevertheless I had not been doing this for years.
The TBF2 website itself does collect personal data in very low volume. Please note that all website data is transferred unencrypted. It is possible to leave an e-mail address in the bug database ("tracker") with your request, if you want to be informed about new comments. The address will not be shared or displayed to the public and deleted when the request is closed ("Status: closed") or at least after sixty days. Certainly you can demand to delete it at any time.
This website does not use permanent or volatile storage in your browser, like cookies, "Local Storage", "Indexed DB" or others. Additionally there is no "fingerprinting" to recognize you on subsequent visits. All content (texts, images, stylesheets, scripts, fonts and software packages) are local only.
If you send me an e-mail I will of course get one/your sender address. You may use a "disposable address", when you just want to send a comment, a feature request or similar and on not expect a reply. I will not share your address. All mails are fetched through a secured connection ("SSL/TLS") from my service provider and are stored in my long-term archive (unlimited time) for later reference on encrypted drives. Of course you can tell me to delete them at any time. Therefore every sender mail address gets an individual delete code in my reply´s signature.