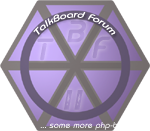 Talkboard Forum 2
⚙ Version 2.2.1 — Juni/Juli 2018
▻ Welcome
TBF2 is a PHP- and MySQL-based software which supplies a discussion board for everyone's website. It exists as of 2001 and has been developing since then. The forum comes at no extra charge and is open source. Two languages are supported, also allows free layout arrangement as far as possible and provides anything you expect from modern forum software; themed by its motto 'merge own ideas with best of other forums'.
The recent stable branch 2.2.x is shipped as of November 2015 and replace the older releases. This fixes bugs of course and brings some new stuff which were planned quite some time ago. On this webpage you can inform yourself about the project, its history, its requirements to the webserver and a little comparing list of its features. By using so called templates the layout of your forum can be modified. To do so, a new one can be created, but also one of the ready-made be used.
What would a software project be without support? Of course, you get that. Details are on the corresponding section. Don't let me keep you from looking around :)
▻ This is new
#41 — Talkboard Forum 2.2.0 (stable) released
⏲ November 2015
# New Horizons The earth keeps spinning. Software is constantly evolving. And now we do it again. Some things changed during the last years which required the TBF to adapt to. Especially compatibility to more recent PHP versions was on schedule and replacing old cryptogryphic interfaces in the "years after Snowden". To honor the visit of New Horizons in this year and its fascinating pictures of our currently most outer (dwarf-)planet, the codename for this release is Pluto. It mainly consists of: * You now require at least PHP version 5.0 or higher. Who is seriously still using the officially deprecated PHP4 and can upgrade should do so. Legacy PHP4 code has been completely removed from TBF. * Switched the database interface to "MySQLi". The honorable "MySQL" has been deprecated since PHP 5.5 and shall be removed one day. Because of its age TBF uses no modern database features directly through this interface, or emulates them to support older MySQL versions, removal was easy. This raised the minimum MySQL-Version to 4.1 or higher. * Support for version 6 of the Internet Protocol. This "new" version becomes more and more important in the future, depending on the adaption rate of lazy internet service providers ;), and has a different address format. The filtering subsystem for banning addresses has therefore been adjusted. * Changed the encryption schemes to modern cryptogryphic functions. The pristine concept roots in the year 2005 and is outdated. Unfortunately existing password cannot be migrated. **ALL user and forum passwords become invalid** and have to be reset! The first named do this by using the "Forgot Password?" option in the login area oder the administrators run the "setup_repair.php" located in the "contrib" folder. Forum passwords are changed in the administation panel by a specific form. As long as they have not got a new one, they are **unprotected like a common open subforum**! (Experts only: Salted Whirlpool/SHA512 with 5000 rounds. PBKDF2/bcrypt sadly comes first with, at this moment too young, PHP 5.5. Browser will hash the password input fields with SHA256 and 200000 rounds before transferring them.) * Native audio and video support in the AFS. Browser support native audio and video for a few years now instead of using plugins anymore. An update to the MIME-Database and corresponding preview modules are now built into TBF. An update is recommended and all necessary steps are explained in "/docs/readme_en.txt". Experienced users can use an unified diff file to preserve their own source code modifications. All files are digitally signed. Details are on the download page on the project website. An Online-Demo is also available and support is provided by a small tracker system. Become interested? Then get a fresh copy from sourceforge servers and give TBF a try.
▻ Careful glance
The Talkboard Forum 2.2 has the following requirements:
A working operating system with TCP/IP-Protocol *
A configured webserver *
At least PHP 5.0.0 or higher
A MySQL-Database at version 4.1 or higher
* = Only of interest, if you have your own server, instead of a contract with a hosting company for example.
You can use the following options, if you want (needs more PHP modules):
Compression of the Database-Backups or Export-Files using zlib/gzip or bzip2
Realtime-Compression of requested pages with zlib/gzip
Rendering some elements dynamically in pictures with gd
As of 2.1.2 sending digitally signed e-mails by using gnupg
Because it is very huge and everything cannot be listed, here is a quick review of all features I remind and have changed since 1.x. You will discover most while the forum is running and used.
Webbased installation, administration and management
Now capable of doing Multilanguage to allow more languages
Layout is now done to XHTML and is heavily using CSS
The Core is stored in classes and may be dynamically loaded as required
Improved Database-Model to allow faster and more efficient queries
A more flexible Template-System which gives you more power
Each user account now belongs to a group which allows better access control
More configuration settings, but this increases complexity either
Advanced access controlling for each forum and page to be accessed
Nearly all configuration is stored in XML-Format to be easily edited or extended
Extensible controlpanel for users containing history, favotites, calendar and more
Detailed Debug-Port displaying information during runtime
Gradual Caching to reduce server load
Cronjobs to run recurrent tasks automatically like deleting unused sessions
Everything approved from the 1.x-Branch, whereas most were improved consequently
It all began in January 2001. I was looking for a script language to improve my homepage with dynamic action. First I played a little bit with Perl, but by coincidence I finally found the open-source language PHP. All my programs were written in this. In March 2001 version 1.0 was finished and provided for download. But then it became quiet around this board, because I had concentrated on other scripts. In early-winter 2001 version 1.2 was reached by bugfixing. At the beginning of 2002, I decided to rewrite this board. This was just intended to be version 2, but I stayed in the 1.x branch to gain more experience. That decision should be turned out good later on. During the year 2002 it arrived at its final version 1.7.5, which was much more complex than the initial release. Many ideas were included and hours passed by. But unfortunately, I was not confident about this and started developing on the new version 2 in November 2002. In February 2005 it (finally) was completed and replaced the successful 1.x branch.
▻ TBF on the go
For any version you can find different packages to download. I recommend the most recent one. New installations and upgrades are made with the 'Full Package'. They come in two flavours of compression - old ZIP and fresh LZMA ('7z'). Some versions have errors fixed after some time and are provided as "Update [Number]". These are simply copied over your existing installation. Advanced users can apply changes from one version to the successive by using a special tool¹ either on the server or their local machine. This can be done by a "Patch File".
All files have a so called hash. This is a long string of numbers and characters located at the corresponding version block. You can verify whether your download is correct. If just a little is not equal, your hash will be different from the one in the listing. I use the standard algorithm 'sha256' to calculate them. To help you verify you can look for a hint in your trustful search engine ('verify sha256 hash').
All files are digitally signed. If you grab my public PGP key you can verify the files for authenticity and integrity. This means they were not changed since the signature has been created. And the used key for that is in my possession. You can check the fingerprint to make yourself certain. To help you verify you can look for a hint in your trustful search engine ('verify gpg signature'). You can find the signatures in a detacted '.sig' file. Moreover it exists a file with all hashes which is also signed. Even the template files are included.
As of 2018 there will be a new keypair for the next years in order to replace the old one. A transition document has all details and was signed with both keys.

pub  rsa3328/0xA2360C8CD49BBD5E 2018-06-09 [expires: 2028-06-06]
      Key fingerprint = 38EF 94F0 C94E 8063 FC2D  1C21 A236 0C8C D49B BD5E
uid                             Stefan Kühn <webmaster AT hasenharem DOT de>
uid                             Stefan Kühn <stefan AT hasenharem DOT de>
uid                             Talkboard Forum 2 (Encryption and File/Mail Signing)
                                            <support AT tbforum DOT hasenharem DOT de>
sub  rsa2048/0x1ADF2E5C6C4E2F95 2018-06-09 [expires: 2023-06-08]
      Subkey fingerprint = 9122 2CDF CDB5 9ACD 3D8B  0867 1ADF 2E5C 6C4E 2F95
sub  rsa2048/0xD4CCBA0B9F9F6E3B 2018-06-09 [expires: 2023-06-08]

¹ patch. A lot of linux distributions have it preinstalled. Windows ports are available, too.
▻ Templates
Please try the german version. It should be pretty strightforward even if do not understand this language.
▻ Oracle
IMPORTANT: Please take note of the support scope of your TBF version.
2.2.x: Full support with new features, security patches and common error fixing
2.1.x: Limited support with security patches and common error fixing
2.0.x: Limited support with security patches
1.x.x: No support
If you speak german you can have a look at the archive of the old support forum. Or you use automatic translation. The most interesting one should be the "Häufig gestellte Fragen und Antworten (FAQ)" section. There is no direct search option but you can restrict your focus in common search engines by appending "site:tbforum.hasenharem.de" or "host:tbforum.hasenharem.de".
You can also get in touch by e-mail or have a look at the following tracker, if there is already an entry addressing your issue or an official bugreport is existing. My e-mail address is support at tbforum dot hasenharem dot de.
My support to this software comes without any charge and is voluntary! You have no claim of prompt reply. But you can be sure I read all requests and try to answer in my free time. If you like to donate something just make me an offer :)
▻ Legal
The "Talkboard Forum 2" (hereinafter TBF2) is provided as a free of charge and open-source software for private or commercial usage. The terms of use can be seen in the seperately delivered license ("GNU General Public License", GPL). It grants the four freedoms of the Free Software Foundation. This website does not generate any income or uses advertisement. Please forgive my lack of "legal speak" as I am no native english speaker.
Responsible for the content of this website is:

Stefan Kühn
Wideystrasse 33
D-58452 Witten, NRW
E-Mail: webmaster AT hasenharem DOT de
This is no support address for the software! Take a look in "Help" instead.
License and Liability
All textual contents and images are subject to the following license, if not declared otherwise: Creative Commons Attribution-NonCommercial-NoDerivatives 4.0 (CC BY-NC-ND). You are free to use it for non-commercial purposes, copy and distribute the contents. As long as you credit the source and leave the contents untouched.
I assume no liability for any damages you may be exposed to by using the information on this website except I have done a big mistake. Any consequences for your life, if you stay here too long and your dog will die of starvation or your friend will leave you, is not my business ;)
On this website you can find links to other external webpages. Although I check the contents of the destination before linking them, please note that I am not responsible for the contents. I do not control them afterwards for unwanted changes or if the link is still valid. Please notify me by e-mail, if something has catched your eye.
Privacy
The TBF2 website is delivered by Net-Build GmbH as service provider. They collect personal data of my customers during the normal server/computer operations. I am unfamiliar with what (personal) data are gathered by the service provider. But they are subject to strong german privacy laws ("Bundesdatenschutzgesetz") and since May 2018 the "General Data Protection Regulations" in the European Union and you should contact them if in doubt. I have lost access to the provided webserver protocols since the GDPR took place. These could be used to make statistical analysis of my visitors but nevertheless I had not been doing this for years.
The TBF2 website itself does not collect any personal data with one exception. Please note that currently all website data is transferred unencrypted. It is possible to leave an e-mail address in the bug database ("tracker") with your request, if you want to be informed about new comments. The address will not be shared or displayed to the public and deleted when the request is closed ("Status: closed") or at least after sixty days. Certainly you can demand to delete it at any time.
If you send me an e-mail I will of course get one/your sender address. You may use a "disposable address", when you just want to send a comment, a feature request or similar and on not expect a reply. I will not share your address. All mails are fetched through a secured connection ("SSL/TLS") from my service provider and are stored in my long-term archive (unlimited time) for later reference on encrypted drives. Of course you can tell me to delete them at any time. Therefore every individual sender gets a delete code in my reply´s signature.